There is no doubt that wild Kadsura has been harvested  for 800 years or more. Documented use is harder to find but recorded collection data, dates back about 400 years. (see Saunders)
In its native habitat, wild Kadsura is becoming increasingly difficult to find. Traces of these original plants in the forest still exist but are being pushed out by rural development, monoculture, and poor timbering practices.
In the 1990s Black's expeditions focused on visiting numerous indigenous groups on seven expeditions in China. He reported that the remoteness and language difference between the hill tribes and their relative autonomy from the control of the Chinese Central government has kept this plant relatively secret. Kadsura was always harvested from the wild until recently.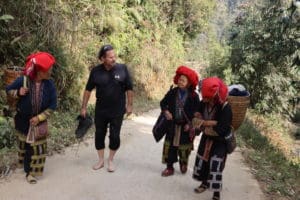 "When we returned in 2019 after twenty years, entire regions were becoming deforested and the vines were harder to find", Black stated, "especially around Xishuangbanna and North Laos which was had been one of the most bio-diverse areas of the world".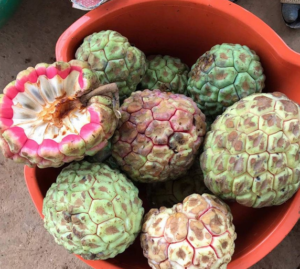 "This deforestation is particularly disheartening", Black states," vast regions have been clear cut and terraced for the planting of rubber trees to feed the demand for airplane tires. Some regions are nearly stripped of their biodiversity and once traditional hill tribes are now working as rubber-tappers instead of living from the bounty of the natural forest they enjoyed for the last 2,000 years."
We speculate there were no known photographs of the fruits prior to 1991-92. The exception of one grainy color photo made around 1992 and obtained by Black from a researcher who worked in secret in a secret Chinese government program.
Black reports, "We had been looking for this in the wild, and found fruits in an indigenous village, which they called the "god peach", the 'longevity fruit', and the 'fruit for a long life and beauty'. In recent years the fruits have been planted and have become a feature for a new breeding program"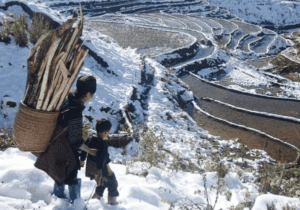 "We receive word of it in the early 90s while finishing an expedition into remote Shennongjia", Black said. "about 350 miles up the Yangtze, east of Wuhan. It was before that mega-hydro-power dam was built. We simply jumped off the boat on the second day upriver near the town of Zigue, hiked two days in, and began searching"  Zigue is now submerged under 200 feet of murky water I suppose."
A lone researcher leaked out a grainy photo and given to Black and his partner. It came with the message that,  "an urgent project to develop and then promote the great potential for a multi-purpose rare plant and exotic fruit."
The Chinese government did all this work in secret at first in order to create an amazing new fruit that is both medicinal and evergreen ornamental.
These vines are now helping poor villages reap a high profit in high-end stores in faraway cities like Beijing, Chengdu, and Shanghai"